Liberation Theology
Click on the pictures

Pope John Paul II on his 1983 arrival in Managua, wags
his finger and publicly reprimands Liberation Theology
Jesuit priest and Sandinista Minister of Culture Ernesto
Cardenal.
| | |
| --- | --- |
| | |
| | Che Guevara portrayed as Christ |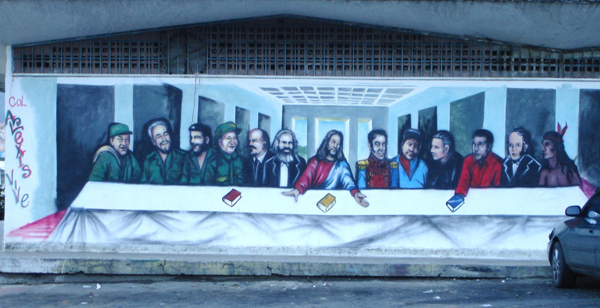 Christ at the Last Supper with Communist revolutionary leaders.
The chapel at the Universidad Centroamericana José Simeón Cañas (UCA) in San Salvador, El Salvador.
Note the guns depicted on the altar panel, the sketches of naked torture victims, and the political overtones
of the painting of the six martyred Jesuits.
New Thesis Stirs Religious Debate (Los Angeles Times, May 15, 1976, p. A24)
The Case Against Liberation Theology (N.Y. Times, Oct. 21, 1984)
Explaining Liberation Theology (N.Y. Times, Dec. 2, 1984)
Was Christ a 'communist'? Castro thinks so
Archbishop was humble ally of poor
Church orders halt to Indian deacons' ordinations
Church revisits 'option for the poor'
El Salvador, magistrate will not reopen case of slain Jesuit priests
El Salvador to Reopen Murder Probe
Iglesia pide reapertura de templos en Chiapas
In a Warring Mexican Town, God's Will Is the Issue
In Mexico, Pope Will Find Few Remnants of Liberation Theology
Latin American Christians Reshape Liberation Theology
Mexican bishop of the poor retires
Mexican Indians Lose Another Church Ally as Bishop Is Moved
Papal visit to Mexico spotlights rifts between Christian groups
Pilgrims Take Inspiration From Martyrs of the 80's
Rethinking option for poor
Retired Archbishop Carrasco, champion of the poor, dies in Mexico
Monseñor Oscar Romero
Salvadoran Jesuits may take case of slain priests to Spanish court
Some Chiapas Towns Are at Odds With Bishop Ruiz
Thousands commemorate 20th anniversary of El Salvordan bishop's slaying
Vatican Seeks to Curb Mexico's Indian Deacons
Vatican urged to canonize slain Salvadoran archbishop as martyr


NATIONAL COUNCIL OF CHURCHES
National Council of Churches (Official web page)
Church Council disclaims Sandinistas anti-religious
Controversy surrounds national church alliance
Group Urges End to Vieques Bombing
Mediating churchman used to controversy
NCC Continues Its Pastoral Support of Elian's Grandmothers
Exhorta al Gobierno el Consejo Nacional de Iglesias a Restablecer Relaciones Diplomáticas con Cuba Roja
U.S.-Cuba ties renewal urged by church group