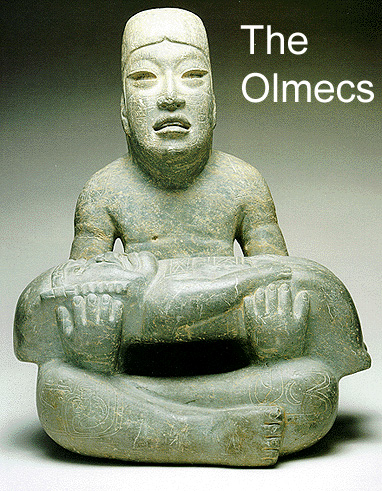 Colossal Heads
VIDEOS
The Olmec Faces are Black African? Debunked! (11:40 min.)
Los Olmecas, parte 1 (20:04 min.)
Los Olmecas, parte 2 (20 min.)
Digging for the Truth: The Olmecs [Hunter Ellis, Hostory Channel, 2007] (43:09 min.)
Los Olmecas: Reyes de la Edad de Piedra [History Channel, 2007] (44:50 min.)
Secrets Of the Ancients: The Olmecs [BBC Documentary, 1999] (48:19 min.)
Colossal Olmecs [Dr. Sara Ladron, City College of San Francisco, 2009] (52:49 min.)

ARTICLES
Asking New Questions About the Mesoamerican Pre-Classic
From Olmec to Epi-Olmec at Tres Zapotes, Veracruz, Mexico
Congenital Deformities and the Olmec Were-Jaguar Motif (1981)
Mystery of the Olmec (Time, July 1, 1996)
Olmec Civilization, Veracruz, Mexico: Dating of the San Lorenzo Phase (1967)
Olmec Settlement Data from La Venta, Tabasco, Mexico (1988)
The Prehistory of the Southeastern Maya Periphery (1974)
Public Monuments and Sacred Mountains
Pottery Presented as Evidence Of Olmec Culture's Influence (The Washington Post, Feb. 18, 2005)
So-Called Jaguar-Human Copulation Scenes in Olmec Art
In an Ancient Mexican Tomb, High Society (N.Y. Times, May 17, 2010)
Grove, David C. Chalcatzingo, Morelos, Mexico: A Reappraisal of the Olmec Rock Carvings, American Antiquity, Oct. 1968
Meggers, Betty J. and Clifford Evans. Speculations on Early Pottery Diffusion Routes Between South and Middle America. Biotropica, June 1969.
CALENDAR
Olmec calendar

WRITING
New Evidence of Early Form of Writing in Mexico (N.Y. Times, Dec. 6, 2002)
Roots traced back to glyphs of Mexico's Olmec civilization (MSNBC, Dec. 5, 2002)
Writing on Stone May Be Oldest in the Americas (N.Y. Times, Sept. 14, 2006)
SITES:
MEXICO
Chalcatzingo, Morelos
La Venta Archaeological Site, Tabasco
La Venta Museum, Tabasco
La Venta Park, Villahermosa, Tabasco
Museo Regional Carlos Pellicer Camara, Villahermosa
Angel R. Cabada Municipality, Veracruz
Museo Regional Tuxteco, Santiago Tuxtla, Veracruz
Oxtotitlan Cave, Guerrero
Potrero Nuevo, Veracruz
San Lorenzo Tenochtitlan, Veracruz
Tres Zapotes, Veracruz
Tuxtla Mountains, Veracruz
Xalapa Anthropology Museum, Veracruz
National Museum of Anthropology, Mexico City

TAKALIK ABAJ, GUATEMALA
Monument 23 (Similar to La Venta Altar 5)

MONTE ALTO, GUATEMALA
Structure 3 pot-belly figure

CHALCHUAPA, EL SALVADOR
Tazumal Museum

ARCHAEOLOGISTS
Matthew Stirling

ARTIFACTS
Bottles
EFFIGY VESSELS
Contorted Figures and Vessels
Bird Effigy Vessels
Fish Effigy Vessels
Human Organ Effigies and Vessels
FIGURES
Kneeling Bearded Figures
Reclining Figures
Seated Figures
Standing Figures
JEWELRY
Ornaments
Pectorals
Pendants
MASKS
Oaxaca Werejaguar Maskette
Maskettes
Mini Masks
Objects of Everyday Use
Perforators
Plaques
Portraits
Spoons
Tecomates
BALL GAME
Ballplayers
Yokes
ROYALTY
Enthroned and Seated Figures
Standing Figures
Symbols of Royalty
RELIGION
Celts
Dwarfs
Hunchbacks
Jaguars
Objects of Ritual Use
Olmec Dragon
Olmec Dragon Bottles
Olmec Dragon Bowls
Olmec Dragon Tecomates
Shamans
Transformation figures
INSTRUMENTS OF THE SHAMAN
Mirrors
Spirit Companions
Pulidores
Werejaguars (Supernaturals)
Werejaguar Axes
Werejaguar Bowls
Werejaguar Masks
Werejaguar Maskettes
Werejaguar Standing Figures
Werejaguar Ornaments
Werejaguar Pendants
Werejaguar Plaques
Winged Figures
LINKS
Olmec Civilization
The Olmec
The Pre-Classic or Formative Period (1500 BC-300 AD)